Membership Benefits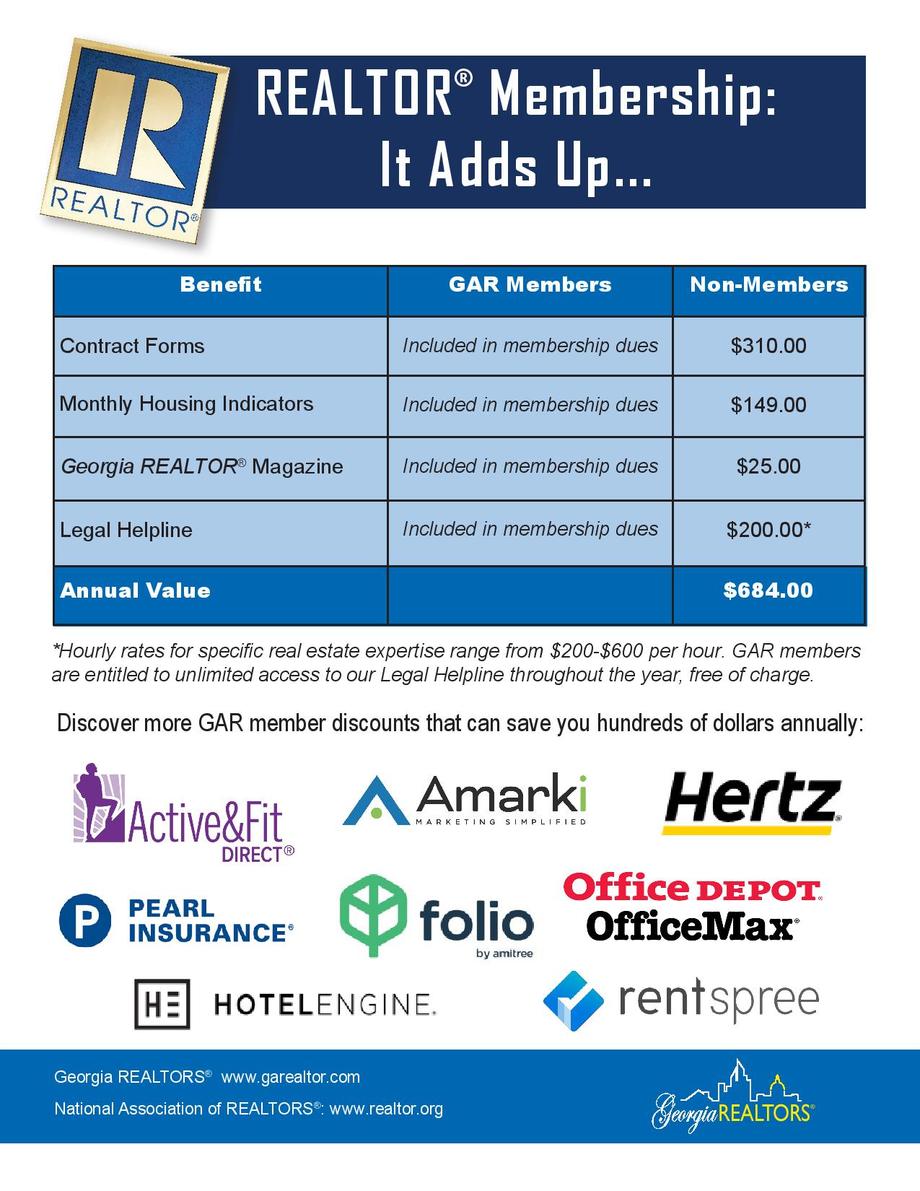 FIRST and FOREMOST, as a member, you have the right to use the term REALTOR® and the registered trademark indicating that you abide by the REALTORS® Code of Ethics.


Professionalism
REALTORS® distinguish themselves by abiding by a Code of Ethics that was first adopted by NAR in 1913. REALTORS® pledge to uphold these ethical and professional standards. Enforcement of the Code of Ethics is a service offered to ensure the integrity of your fellow REALTORS® and a positive experience for your customers and clients. The Board conducts mediation and arbitration services to assist in resolving alleged ethics complaints and monetary disputes. Additionally, FCBR offers annual educational courses in order for members to meet the NAR Quadrennial training on the REALTOR® Code of Ethics.


Awards & Recognition
Awards are presented to members annually in recognition of outstanding achievement and service as listed below. Also, the Board works hard to publish photos and names of those involved with and/or attending meetings and events.
Circle of Achievement

Affiliate of the Year

Rookie of the Year

Good Neighbor Award

President's Award

REALTOR® of the Year

RPAC Contributors (99Club, Capitol, Ambassador, Sterling & Golden R, & offices reaching 100%)




Education & Professional Development
The Fayette County Board of REALTORS® Real Estate School offers real estate professionals a full curriculum for real estate licensing (virtual pre and post-license), continuing education, and professional designation programs online and in our training room with audio/visual and wireless access support. It continues to be one of the hallmarks of our association which features a diverse group of classes and instructors. Members receive discounted pricing on the cost of educational courses.


Networking Opportunities
One of the best benefits of being a member is having the opportunity to get to know your fellow REALTORS®. Knowing that networking is a vital part of a successful career in real estate, the Fayette County Board of REALTORS® provides you with numerous opportunities during the year to come together with other real estate and affiliate professionals in a fun and relaxed atmosphere. Ten Membership Meetings (featuring relevant topics and speakers) and/or Events to include the Spring Ball (aka REALTOR® Prom Night), May RPAC Auction, Fall Affiliate Showcase & Trade Expo and the December Holiday Reception are planned each year.


Legislative Action
Local legislative meetings are monitored in an effort to stay on top of the issues affecting the rights of property owners and REALTORS®. The Governmental & Public Affairs Committee works closely with local, state and national leaders to make sure new and existing laws and ordinances don't adversely affect your business or private property rights.


Leadership Development
FCBR's Leadership Development Program trains up-and-coming leaders today to guide the association tomorrow. Five 2-hour classes and a field trip to GAR feature a variety of topics to include Board finances, legal liabilities, fiduciary duties and responsibilities, "who does what" and a past presidents panel to round out the program.


GAMLS Satellite Supply Store
The onsite "mini-store" has over 100 different items including, Lockboxes, Directionals, Information Boxes, Planners, Listing Folders, Closing Gifts, Jewelry and much more. You can call ahead to reserve items if you're in a hurry. Store is open for your convenience, Monday through Friday, from 9:00am to 4:00pm.


Volunteer Opportunities
Get involved by serving on a Committee! Awards, Bylaws, Budget & Finance, Cultural Diversity, Education, Governmental Affairs, Grievance, Membership Development, New Member Orientation, Noel November, Professional Standards, Programs, Public Affairs, RPAC, Strategic Planning, and Technology. Serving others and your board has a value all its own.


GAR Legal Lines Library & Helpline
This GAR benefit is free for Georgia REALTORS. There are video series that features GAR's General Counsel Seth Weissman discussing some of the most frequently asked questions that come through GAR Legal Helpline. To utilize the helpline, you will visit GAR's website, login and acknowledge the user agreement and submit your questions. Questions are sent to Weissman's P.C. which is GAR general counsel.
Georgia Real Estate Health Insurance
GAR is excited to announce in 2020 that there is now alternative to the ACA exchange and private insurance for REALTOR members only. With the Georgia Real Estate Health Benefits Center, you and your dependents may qualify for quality, affordable coverage that works with your families lifestyle and gives you the best care possible. For more information on GAR's health benefits please click the link below.
https://garehealthbenefits.decisely.com/
Member Roster & Labels
Printed mailing labels for the general membership (REALTORS® & AFFILIATES) and available for a fee of $20.00. Send an e-mail to ae@fayetterealtors.com to order a set.


Southern Federal Credit Union
As a member, you and your family are eligible to join the credit union and take advantage of their many products and services at any one of eight locations in the south metro area. They offer great savings through no charge checking accounts, savings accounts, specials on car loans, on-line banking, bill payment, direct deposit, safe deposit boxes, notary services and more.
NAR & GAR
Membership in the local Board also provides you with automatic membership in the 40,000 member Georgia Association of REALTORS® and the 1,300,000 member National Association of REALTORS®, the largest trade organization in the country. See www.realtor.org and www.garealtor.com. The GAR REALTOR magazine is published six times per year and mailed directly to you, while the NAR REALTOR magazine will come every month.